TRAVEL AND TOURISM BUSINESS CARDS
A range of customizable business card templates for those in the travel and tourism industry are offered at Zazzle. Here you will find business cards to suit small and medium sized businesses - travel agents, tour operators, inflight and cruise service providers. There are also cards with beach and ocean themes and for all those involved in making holidays better for holiday makers.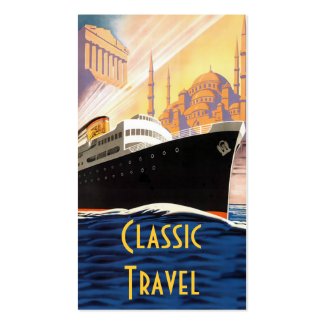 Classic Cruise Ship Travel Agency Business Card
Vintage Adriatica Cruise Ship image from the 1920s. Customize with your travel agency or name of cruise line. The reverse side has a template for all your corporate information set off by a ribboned anchor in the lower right.

White Cruise Ship Covered Decks Business Card
A business card featuring a modern cruise ship. Five decks with tinted glass windows and portholes enclosed in a hull painted white with a blue and orange trim lines above the main deck. A flag flies from the stern of the vessel. An ideal business card template for those in the travel industry.
Boarding Pass Style Business Card
This unique design features an eye-catching boarding pass for your travel related business. Personalize with your own business details on front and back of this business card.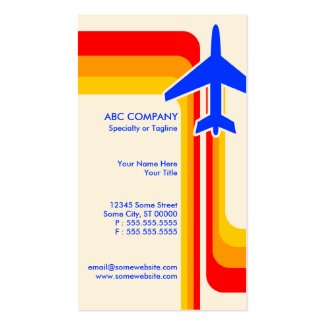 Retro Stripes Travel Business Card
A business card for the travel industry featuring modern colorful stripes in red, orange and yellow, with the silhouetted outline of an airplane and your travel business details.
Travel Agent and Tour Operator Themed Business Cards
More Tourism and Travel Themed Business Cards
AIR
Flying, Airport and Flight Services Business Card Templates 
SEA
Cruising, Cruise Ship and Cruise Services Business Card Templates 
ON THE BEACH
Beach Holiday, Sea and Ocean Themed Business Cards