<< Go To Previous Page for Classic Mugs, Beer Glasses, Steins, Travel Mugs
Flasks, Water Bottles, Specialty Bone China,
Expresso Mugs, Jumbo Mugs and Mugs For Lovers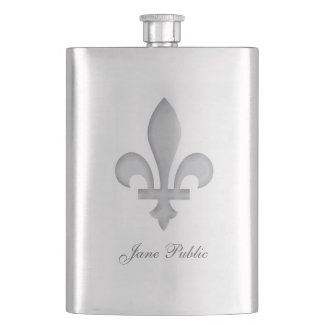 Silver Fleur-de-Lys Personalized Premium Flask 
This Premium Flask features a large silver fleur-de-lis centered on the front. Personalize with your name in a flowing silver script. The Fleur-de-lys is an emblem or coat of arms of francophone origin. The motif here is silver on a metallic silver background but the background color can be changed.
HIP FLASKS
Two styles are offered. The Classic Stainless Steel flask has a capacity of 8 oz and measures 4.8"l x 4"w x 1"d.  The Liquid Courage Vinyl Wrapped flask with attached screw top lid has a capacity of 6 oz and measures 3.75""l x 4.5""w x 1""d.   Both are great gifts for weddings, birthdays, and special events.


>> Browse More Popular Hip Flasks
>> Browse All Popular Hip Flasks
ESPRESSO MUGS, JUMBO MUGS, AND BONE CHINA MUGS
Specialty mugs include Espresso Mugs, Jumbo Mugs, and Bone China Mugs.
The custom espresso mug from Zazzle is hand-printed with vivid detail. It has a 6oz capacity and is dishwasher and microwave safe. The Jumbo ceramic mug, at 20oz capacity, is ideal for soups, ice cream, chili, or a lot of coffee. The Bone China Cup has a 10oz capacity.
LOVERS MUGS
A pair of interlocking mugs with heart shaped handles on each mug to add an extra touch of love to this very romantic gift. Each mug is ceramic with a capacity of 8 oz. Customizable with 2 image placeholders on each mug, these are a great gift for a wedding, anniversary or Valentine's Day.


>> Browse All Lovers Mugs With A Wedding Theme
<< Go To Previous Page for Classic mugs, Barware and Travel Mugs