Invitations and Announcements
Zazzle's invitations and announcements are perfect for all your party invites, wedding, graduation and birth announcements, and event mailings. Choose from 8 sizes and 8 paper types. Print on both sides. All Zazzle's invitation cards are fully customizable, or create your own. If a design you see isn't on a card size or paper quality you prefer just use the Customize It option to personalize it.


Card Sizes
Each card may be customized for printing in horizontal (landscape) or vertical (portrait) orientation.
3.5" x 5". Fits in A-1 envelope ( RSVP size).
4.25" x 5.5". Fits in A-2 envelope
5" x 7". Fits in A-7 envelope
4" x 9.25". Fits in #10 envelope
6.25" x 4.5". Fits in A-6 envelope
7.5" x 5.5". Fits in 7.875 x 5.875 envelope
8.75" x 6.5". Fits in 9 x 6.75 envelope
Square: 5.25" x 5.25". Fits in square envelope


Paper Types 
Basic: 110lb cover weight, matte surface. Contains 50% recycled content. Color: White
Felt: 100lb cover weight with embossed finish. Color: Cream
Linen: 90lb cover weight with embossed, laid lines. Color: White
Recycled: 100lb cover weight, 100% post consumer recycled content. Color: White
Metallic: 110lb cover weight. Colors: Champagne, Silver, Gold, Ice


Paper Shapes
In addition to the traditional rectangular, square and circular shapes cards also offer Rounded corners, bracket or scalloped sides, or ticket and tag shapes. 


Golden Sun of May BBQ Party Invite
Invite your friends to your barbeque with this bestseller - a bright and cheerful design that features a large golden orange sun with an illustrated face, rays of sunlight spreading outwards from the center. The sun is based on the Sun of May (Sol de Mayo) that appears on the flag of Argentina.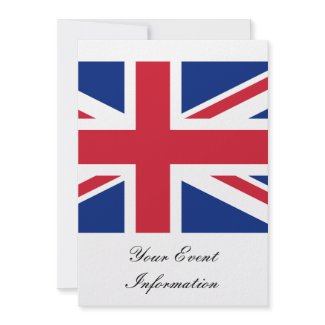 Low Cost Union Jack UK Flag Invitation Cards
Another bestselling card that features the Union Jack, the flag of Great Britain - Northern Ireland, England, Wales and Scotland, in red white and blue.
Easy to customize. Use the customize options for different paper styles or use the Customize It button to change the font style, its size, color and placement on both front and back.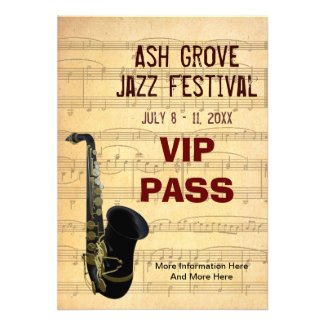 Music Festival Pass With Saxophone and Sheet  Music Theme
Designed for use at music festivals or events as an access pass. The theme of this design is a saxophone with black finish and golden keys against a background of old manuscript sheet music with a golden hue, printed on 5" x 7" 110 lb cover-weight card.
More Popular Wedding Invitations at Zazzle
More Popular Party and Event Invitations At Zazzle
Popular Baby Shower Invitation Cards at Zazzle


Music Themed Events Invitation Cards


Popular Graduation Cards at Zazzle