Luggage Tags With Leather Strap

Make sure you can quickly and easily identify your luggage anywhere with a distinctive luggage tag that you can personalize. Made of strong acrylic for long lasting durability these tags measure 2" x 3.5" and include a leather strap. 
Designs, text, and photographic images appear in clarity and vibrant colors. Customize with your personal information on each side and nobody will ever mistake your bag for theirs again.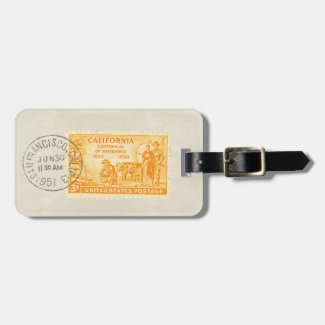 Vintage California 1850 Centennial Stamp Tag
This distinctive luggage tag features the inage of a 3 cent stamp celebrating California's centennial of statehood in 1950, with a San Francisco postmark dated 1951. The stamp, in hues of orange and yellow commemorate the 100 years of the state with images of 3 early pioneers; a couple standing in 19th century apparel, the man carrying a rifle and a hunting knife, and a prospector kneeling as he pans for gold. Surrounding images characterize lifestyles in the period between 1850 and 1950 - two yoked oxen, a steamship, oil rigs, oranges growing on a tree and grapes on a vine.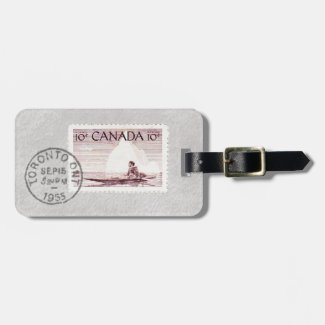 Vintage Canadian Eskimo And Iceberg Stamp Luggage Tag
This acrylic Luggage Tag with Leather Strap will appeal to Canadians. It features a Canadian 10 cent stamp with an eskimo in a kayak on a calm sea with an iceberg in the background, and a passenger jet in the skies above. It's stamped with a Toronto, Ontario postmark, dated 1955.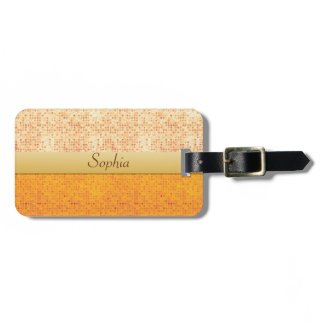 Girly Glittery Orange Polka Dot Luggage Tag
An Acrylic Luggage Tag with Leather Strap with a dash of polka dots in hues of glittery yellow and orange above and below a gold band with your choice of name in flowing script. 
Cool Tags With A Leather Strap for Your Luggage
More Popular Luggage Tags at Zazzle
Customer Review -
Great Wedding Shower Gift
Mr Anchor pattern - Half of Mr & Mrs Luggage Tags Set
. Reviewed by
Jennifer
on .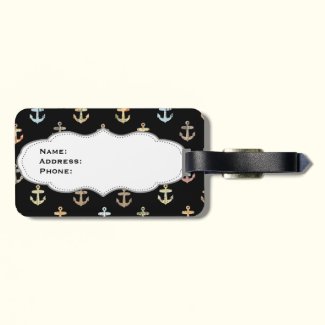 Great Wedding Shower Gift.
This is PERFECT for a wedding shower gift. The tag is very sturdy and durable. A Very good product for the price. A few imperfections in the lettering, but overall it looks good
Rating:
5
View and Buy
Browse and Shop For Artsprojekt Luggage Tags - Make Your Baggage Easy To Find