MOUSEPADS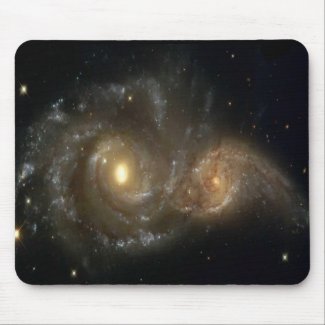 Standard Mousepad 
Decorate your desk with your favorite image or choose from thousands of designs that look great and protect your mouse from scratches and debris. The standard mousepad measures 9.25" x 7.75",  perfect for any desk or work space. The durable cloth cover is dust and stain resistant. The mousepad has a non-slip backing.
Two Spiral Galaxies Colliding on a Standard Mousepad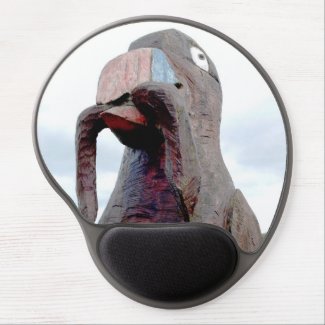 Gel Mousepads
Decorate your home or office with a custom oval shaped mousepad with an ergonomic gel-pad wrist support and non-skid black plastic base. Each mousepad measures 9 1/8" x 10 1/4"
Early Birds Catch The Best Worms on A Gel Mousepad
Our Business Strategy mousepads are designed to help your business prosper through informing key personnel of corporate missions through the use of marketing tools to improve your competitiveness - LogFrame Matrix, SWOT Analysis, Boston Matrix and Ansoff Matrix.

STANDARD MOUSEPADS


Add The Personal Touch To Gift Giving - Customize A Mousepad
Browse and Shop for More Mousepads at Zazzle
GIRLY MOUSEPADS


GEL MOUSEPADS


Business Strategy Mousepads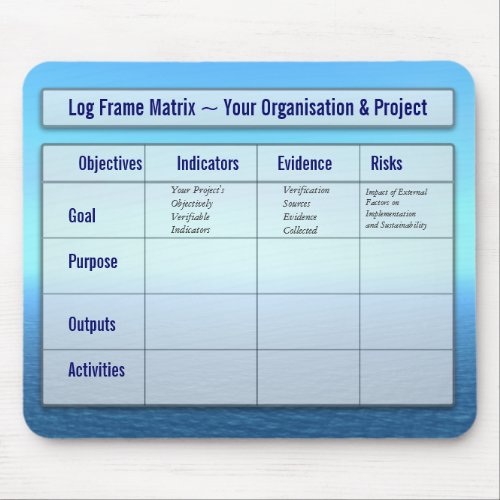 A LogFrame Matrix is a tool for planning and managing projects.  It is also often referred to  as Logical Framework Analysis, or LFA. The matrix or table presents the key elements of a project in a systematic way,  allowing progress towards project goals to be clearly monitored and reported at key stages of implementation.  
Many Aid Agencies require a LogFrame to be used in proposals for donor funding, so it's important for project managers, NGOs, stakeholders, beneficiaries,  and other organizations involved in international development work to be familiar with its structure and content.
Customize your project's LFA on a mousepad with :
Goals - the result to which the project contributes, the impact of the project.
Purpose - the effect that occurs if the project outputs are achieved.
Outputs - the intended results at specific stages during the project's life cycle. 
Activities - The tasks required to produce the required outputs
Indicators - Measurable indicators of progress.
Evidence - Information or data to verify indicators.
Assumptions & Risks - Factors external to the project that project management cannot control.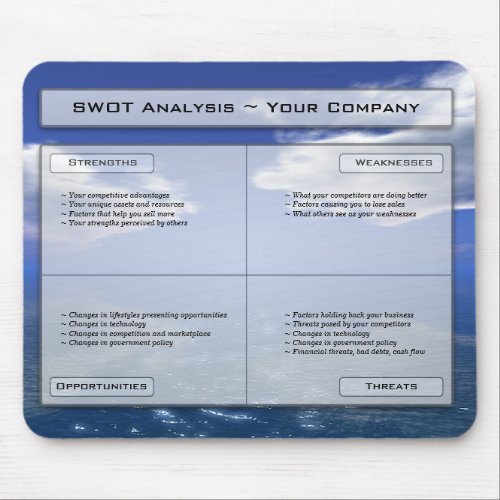 A SWOT Analysis is used to evaluate the strengths, weaknesses, opportunities and threats involved in a business or project. the findings are presented on a matrix or grid. 
Ensure you and your key staff are frequently reminded of your company's position in the market place with this attractive mouse pad. It's fully customizable to show your organization's strengths, weaknesses, opportunities and threats in the marketplace as a frequent daily reminder to those with company management responsibility.  
Strengths - Your competitive advantages - factors that help you sell more - your unique assets,resources and expertise - Your reputation
Weaknesses - Lack of expertise or resources - what your competitors are doing better, your service
Opportunities - changes in lifestyles, - technological developments - business environment - political initiatives
Threats - threats posed by your competitors - hanges in technology - changes in government policy - financial threats, bad debts, cash flow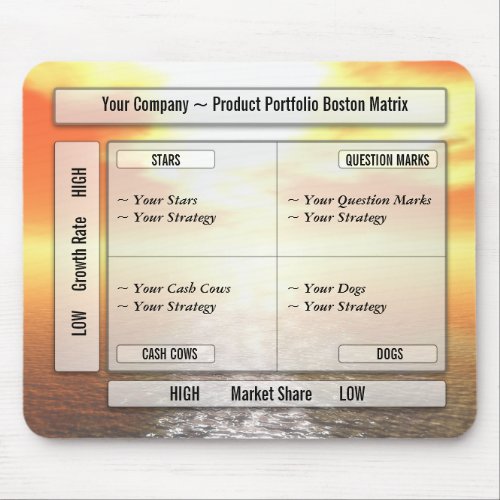 The Boston Matrix is a convenient method for analyzing your company's product range into four categories according to their market share and growth rate. Customize your corporate mousepads with your company's Boston Matrix
Stars are your high flyer products with high market share and high growth rate.
Cash Cows also have a high market share but their growth rate is low.
 Question Marks are characterized by high growth rate, but have low market share.
 Dogs are those products with low market share and a corresponding low growth rate.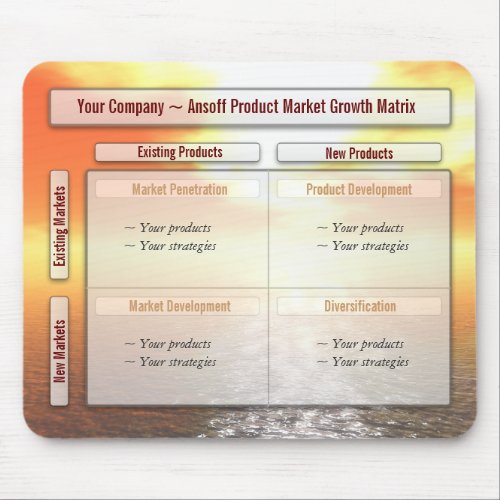 Ansoff Product Market Growth Matrix Mousepad
The Ansoff Matrix is a convenient tool for analyzing product and market growth and the appropriate strategies for dealing with new and existing products in new and existing markets.
Market Penetration concerns strategies for growth of existing products in existing markets by, for example,  increasing existing customer use.
Market Development focuses on expanding existing products into new markets and the strategies to accomplish it,  such as dealing with issues of distribution and pricing.

Product Development relates to developing new products for existing markets. Skills development and technical issues are two of the issues that can play a part in developing an appropriate strategy for product development.
Diversification concerns expanding into new markets with new products. Appropriate business strategies must focus on the risks of diversification into unfamiliar territory.