EXPRESS YOUR INDIVIDUALITY - WEAR A PIN WITH FLAIR
Express your creativity and show it with a custom button that you design. Create your own button, or choose from thousands of colorful and cool designs that you can personalize. Musicians and their fans have bought them to promote their bands. Travel agents have customized them for identification of group travelers. Wedding planners use them for identifying who's who at weddings and useful to organize events efficiently and without fuss. Buy or design a star sign button as a birthday gift. It adds a personal touch to gift giving.
Printed on 100% recycled paper, they are covered with scratch- and UV-resistant Mylar. No minimum order and discounts for bulk orders. Both round and square buttons are available. The square Button is a standard size 2" x 2".  The round button is available in five sizes ranging from a small 1.25" diameter to a colossal 6".
POPULAR PINS
View And Buy Custom Buttons and Badges


More Custom Buttons and Badges
WEDDINGS AND ANNIVERSARIES


Weddings, Anniversaries and Formal Events 
More Pins for Weddings, Anniversaries and Formal Events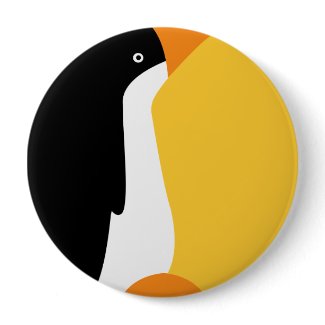 Wear a fashionable penguin for flair when out and about. This bestselling button features a cute Emperor Penguin in black, white and orange. The background color is yellow but you can change it. Add text to suit your mood.  
This is the huge 4 inch Penguin. Choose a different size if you like !
MUSIC AND PERFORMING ARTS
Buttons For Musicians and Music Fans


More Music Themed Pin Buttons and Badges
ZODIAC STAR SIGN PINS
Add the personal touch to birthday gifts with a Zodiac star sign button.
Browse and Shop For a Button Celebrating a Birthday with a Zodiac Star Sign
FUNNY PINBACK BUTTONS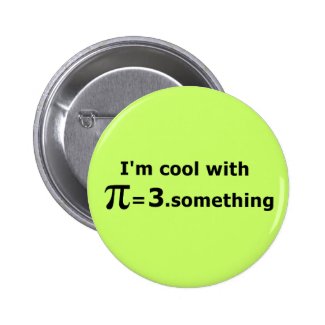 I'm Cool With Pi Is 3 Point Something Pin
A funny gift for π Day, Pi Day, 3/14, March 14th. Most of us don't need to know the actual value of pi, other than it starts with 3 point something;  the meaning of the number is more important to know than its actual value. 
Browse and Shop for a Funny and Humorous Button