>> Next page for Hipflasks, Water Bottles, Bone China, Expresso Cups, Jumbo Mugs, Lovers Mugs


COFFEE MUGS, BEER MUGS AND TRAVEL MUGS
Browse and Buy Coffee Mugs, Beer Mugs and Travel Mugs that you can personalize as a gift for yourself or family, or to promote your business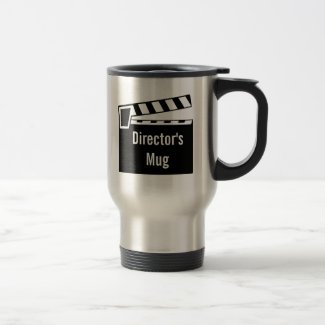 This design features a black and white slate clapperboard that you'd find used on a movie or TV set, used to indicate the start of a 'take'; the filming of a scene and used to allow sound and video to be synchronized at the editing stage.
The slate is black, with band of white and black along the edges where the hinged top meets the bottom slate.
Easy to customize. Use the custom options to personalize, or use the Customize It button to fully personalize the design with your own choice of text on the slate.
CLASSIC TEA AND COFFEE MUGS
The classic mug has a large handle that's easy to hold and comes in 11oz and 15oz sizes. Dishwasher and microwave safe. Makes a great gift! 
The ceramic mugs, travel mugs, frosted drinks glass and steins are interchangeable designs. If you would rather have a particular design on one of these you can easily change it with the customizable design options on the product page. 
Low Cost Make A Mug, Drinks Glass, Travel Mug
You can design your own mug or glass at Zazzle. It starts as a basic mug that you can customize and personalize with your own text and images. Click on the image to start designing your coffee mug, tea cup, travel mug,  drinks glass or stein today.
Or if you prefer you can customize almost any mug or drinks glass at Zazzle. Browse the categories below and on the next page. 


>> Browse Popular Classic Mugs 
BARWARE - FROSTED BEER MUGS AND STEINS 


>> Browse Popular Frosted Beer Mugs and Steins
>> Browse More Popular Frosted Beer Mugs and Steins
>> Browse More Popular Travel Mugs
>> Next page for Hip Flasks, Water Bottles, Bone China, Expresso Cups, Jumbo Mugs, Lovers Mugs