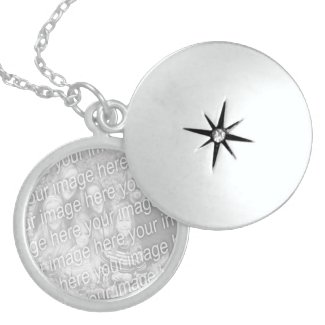 SILVER NECKLACES AND LOCKETS
Keep memories of a loved one close to your heart or show your love with a beautiful necklace jewelry as a gift. These elegant necklaces are offered in 3 styles - round, square, and in the form of a round locket (shown on left). The round and square necklaces come in three sizes - small, medium and large. Add your photo as a treasured memory.
You can also choose the necklace color and finish. In addition to a silver plated finish you may choose a gold color finish, or purchase the more expensive Sterling Silver necklace, ideal as a gift for a very special occasion and St Valentines Day.



From left to right : Silver Plated, Gold Finish, Sterling Silver, Locket Silver Plated. Also a Square Shape (not shown)
View Personalize and Buy a Custom Necklace
Browse other popular necklaces and lockets at Zazzle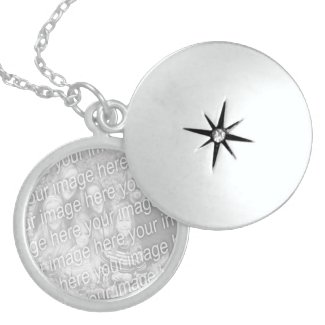 Preserve and cherish memories with a sterling silver locket
Upload an image from your computer to replace the placeholder image. Large high resolution images work best. Use the Customize It button to re-size the image.
Select a different style (round or square necklace), finish (silver plated or gold finish) and size (large, medium or small for necklaces). 
From $23.95 (Small Silver Plated Necklace) to $174.95 ( Large Sterling Silver Locket) before any prevailing discount. Prices may vary.
The Most Popular Silver Necklaces As Valentines Gifts at Zazzle
Cute Zodiac Star Sign Necklaces and Lockets - Choose your style, size and finish 
Pura Vida Braided Charm Bracelets
A hand-made collection of flat braided bracelets by Pura Vida with intricate designs that you can customize to wear with flair.  Pair any flat braided bracelet with a variety of Charm or Gold Bar bracelets for an even more stylish look. Each bracelet is unique and come with a double-plated "P" charm. 
'Gold Charm' bracelets are the perfect add-on to your jewelry collection and feature a gold circle charm design with a small "Pura Vida Bracelets" inscription on the back. All bracelets are adjustable from 2-5 inches in diameter, wax-coated, and will not rust or tarnish. 
Create your own unique jewelry with a style and color of braid of your choice and a charm.