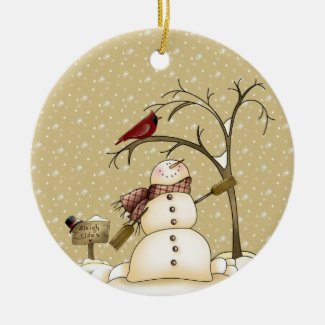 Hanging Decorative Ornaments
Deck the tree or brighten up the home with hanging ornaments for the holiday season.
Choose from hanging ceramic ornaments in various shapes and sizes, or pewter ornaments in the shape of a snowflake. 

Snowman and Red Bird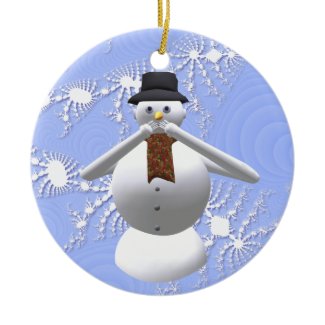 Speak No Evil - Hear No Evil - See No Evil 

Three Ceramic Hanging Decorations for the Holiday Season

A set of three snowmen with their hands covering either their eyes, ears or mouth in the gesture of the See no evil, Hear no evil, Speak no evil proverb whose origins lie in Japanese history and the three wise monkeys. Each snowman wears a black hat, has two large black eyes, an orange carrot nose and thin twigs for lips. A red and green patterned scarf is wrapped around its neck. Three gray buttons run down its large circular body. Each ceramic hanging ornament has a diameter of 2,87" and weighs 1.4 ounces.
Our Collection of Hanging Decorations for the Christmas Tree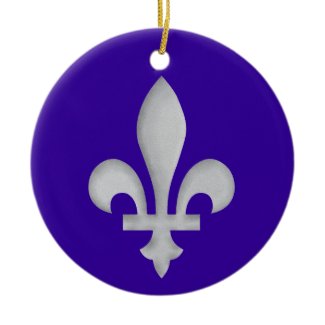 A Silver Fleur-de-lys Christmas Tree Hanging Ornament
This decoration features a Fleur-de-lys, a floral emblem used in coats of arms and flags in largely French speaking countries and places such as France, Spain, Luxembourg, Canada, Quebec, New Orleans, Louisiana, Florence. The emblem is also associated with the Scouting movement. The emblem here is silver with a shadow gradient.

The background color is blue but this can be changed. Fleur de Lys gifts are popular selling items at our store on Zazzle.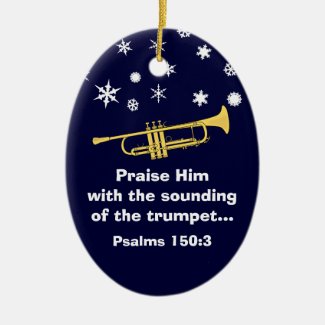 This ornament illustrates Psalms 150:3. It features a golden trumpet on dark blue with white snowflakes and the scripture 'Praise Him with the sounding of the trumpet' on one side, and a chrome harp on matching background on the back with the rest of the verse 'Praise Him with the harp and lyre'.

Ideal for hanging on the Christmas tree in a Christian home.
More Christmas Tree Decorations With A Religious Theme at Zazzle
Funny and Amusing Hanging Decorations
Christmas Tree Decorations With A Santa Claus Theme
Hanging Decorations With A Snowman Theme
Vintage and Victorian Era Themed Decorations
Patriotic Decorations To Remember Soldiers Serving Overseas