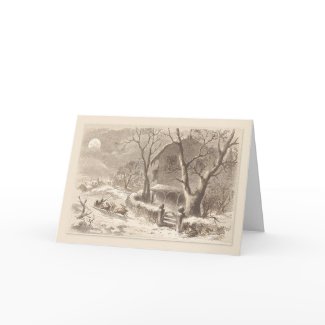 Holiday Season Cards
Express your individuality with a greetings card that you can personalize for sharing the joy of Christmas, the Winter Holiday Season or Hanukkah. 
Christmas Vintage Santa Sleighs in Moonlight Card
A vintage sepia print that dates from the 19th Century. A village and rural night showing Santa Claus and the gifts he brings being carried on a sleigh pulled by four reindeer.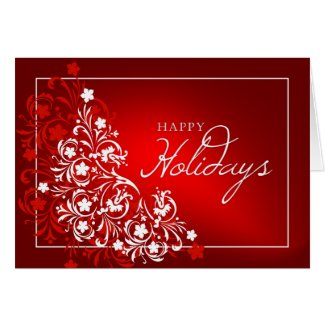 All cards are easy to customize and personalize with your own messages for the holiday season. Customize and buy in bulk with discounts for volume purchases. All our cards, and many of those in the Zazzle Marketplace, may be customized and re-sold to support your business venture or your community cause.  No minimum order - buy one or hundreds at discount prices.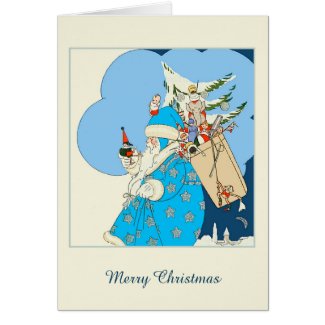 Vintage Blue Santa with Christmas Toys 
This features an elderly vintage Santa Claus with long flowing white beard. He wears a blue cloak with silver stars, blue hat and white gloves. He carries a sack of toys on his back and holds a small toy figure in his hand.
CREATE YOUR OWN CHRISTMAS CARDS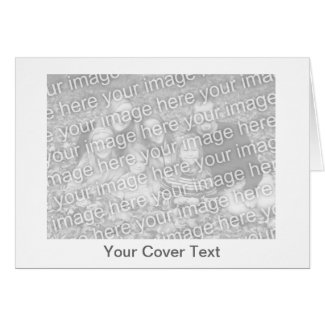 Create Your Own Christmas Cards
Create low cost cards for Christmas, birthdays or other events that you can customize and personalize with your own text and images. Easy to customize and personalize. Replace the image placeholder shown with your own image and replace the text on the cover and inside with your own personal greetings.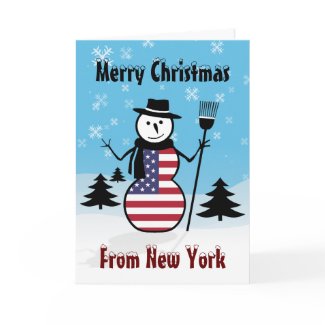 Merry Christmas From New York - American Snowman Christmas Card
This christmas card features a cartoon snowman standing in a snowy landscape with snowflakes falling on snow covered hills in the background. His body wears the stars and stripes of the flag of the USA. Use the Customize It button on the product page to fully personalize the design on the cover and on the inside. The text reads "Merry Christmas From New York"  but you may change this text and other aspects of the text - the font, size, color and position.
More International Snowmen Christmas Cards
Browse and Shop for Our Modern and Vintage Christmas Card Collection
Popular Christmas Cards at Zazzle
More Snowmen Themed Cards at Zazzle
Vintage and Victorian Christmas Cards
Christian Themed Christmas Cards
Hanukkah Themed Greetings Cards
Funny and Amusing Christmas Cards
Patriotic Themed Christmas Cards 
Military and Patriotic Themed Christmas Cards To Remember Deployed Troops 
Professional Christmas Cards for Business and Corporate Use