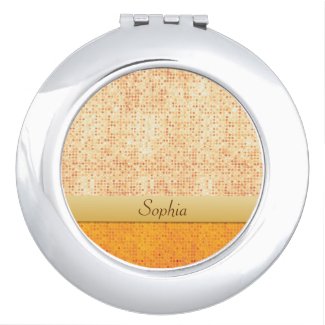 Personal compact mirrors whilst out and about. Designs are printed in full color on a metal insert on the front of the metal case, opening up to reveal two glass mirrors. These luxurious compact mirrors are available in round, square, oval and heart shapes. Personalize with your photos, texts, and designs for a unique accessory that fits in your purse. Dimensions are : 2.75" l x 2.75" w x 0.3" d (round), 3" l x 2.6" w x 0.3"d (square), 2.3" l x 2.8" w x 0.4"h (oval), 2.6" l x 2.8" w x 0.3"h (heart).
Girly Glittery Orange Polka Dot Mirror
A compact mirror (left) with a dash of polka dots in hues of glittery yellow and orange above and below a gold band personalized with your name.
Browse and Shop All Popular Compact Mirrors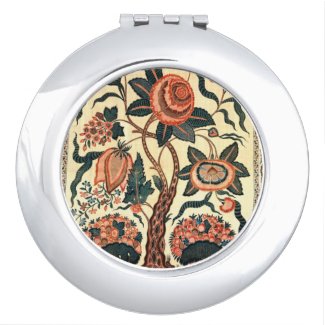 Tree with Flowers and Horns of Plenty, India 1750  

A hand painted design dating from the 1750s by an unknown artist in India on a palampore of chintz (bed cover)