Elegant business cards to make a fashion statement and to impress. Browse and shop Zazzle for a design and theme that you like. Personalize to suit your profession. The themes are broadly categorized into fashion, damask, zebra stripes, colors of the rainbow and vintage themes but you'll find more niche designs as you browse the thousands of designs on Zazzle here.
Modelled ladies hats fashionable in the roaring 1920's on both front and back of the card. Change the text to promote your clothing or craft business. These elegant cards are also ideal for use as eye-catching product price labels and discount coupons. You can also change the card style to a cream, platinum, gold or ultra-thick premium.

FEATURED CARDS
Ultra-Thick Premium Fashion Business Card 
This luxurious Ultra-Thick Premium business card features the Pas-de-Shawl dance illustrated by the Dutch artist Bartholomeus Ziesenis in 1812. The dancer, Annette Köbler, uses her red shawl in dance movements on the stage against a dark backdrop. An eye-catching design for a fashion business. 
Art Deco Long Haired Girl With Rose Business Card
This business card features the outlined face of a girl with long hair extending down her shoulders, with the outline of a rose beneath her chin. A very girly design from the art deco period. Ideal for promoting an arts and design business, or beauty and cosmetics.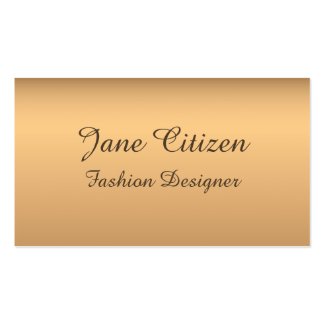 Ultra-Thick Premium Bronze Fashion Business Card
Create your own luxurious Ultra-Thick Premium business cards with a bronze gradient finish for your fashion business. Personalize these high quality cards with your name, profession and contact details on front and back. Made with super-fine paper in 3 layers with a color core, these premium ultra-thick business cards have a weight and feel unlike any other card stock. Most of the standard size business cards below can be easily converted to Ultra-Thick Premium quality cards as a custom option.
Modern Fashion and Style Business Card Templates
Mainly Damask Themed Business Card Templates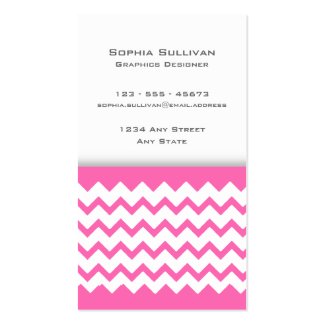 Hot Pink Chevrons Graphics Business Card
A business card that features a pattern of hot pink chevrons as they zig zag horizontally across the bottom of the card within a border of hot pink. There's a placeholder for your choice of name and professional details at the top of the card, and more space on the back. This card would suit a professional graphics artist or fashion designer.
Zebra Striped Themed Business Card Templates
Mostly Black and White Themed Business Card Templates
Colorful Business Card Templates
Vintage and Retro Themed Business Cards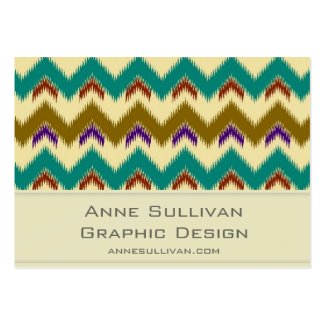 Teal Native Tribal Chevron Pattern Business Card
A native tribal pattern of chevrons and arrows in teal, brown, red, blue and beige, with feathered edges.
Vintage 1940 Stamped Envelope Effect Business Card
A World War Two stamped envelope effect on your business cards. The design features the effect of a postmarked envelope with an appearance mottled by age and the reproduction of a US postage stamp commemorating the liberation of Paris, France on August 29th 1944, showing US troops on the Avenue des Champs-Élysées and the Arc de Triomphe in the background overflown by aircraft.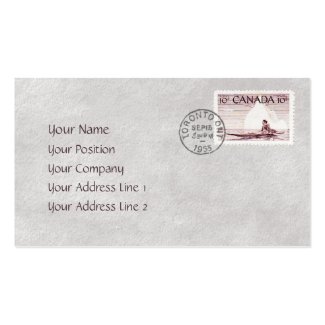 Vintage Canada Eskimo And Iceberg Stamp Effect Business Card
This design will appeal to Canadians. It's a business card that looks like a vintage stamped addressed envelope with a grey mottled appearance. The Canadian 10 cent stamp in top right corner shows an eskimo in a kayak on a calm sea with an iceberg in the background, and a passenger jet in the skies above. It's stamped with a Toronto, Ontario postmark, dated 1955.