Alles was ich brauch bist du
Customizable souvenirs of the Oktoberfest beer festival in Bavaria, Germany and at Volkfests in German communities throughout the world. Our design, on a range of gifts, features a heart with German flag in the background and the text Oktoberfest in gold lettering across the heart.
Easy to customize with your own text. Use the text provided or your own. Or remove the text completely. Some suggestions, and translations are Alles was ich brauch bist du (You are all I need), Du bist mein ein und alles (You are my everything).
Customize further with your own Volksfest logo and promotional text, and re-sell to support your  community. 
All sales are backed by Zazzle's Satisfaction Guarantee of full refund if you are not 100% satisfied with your purchase.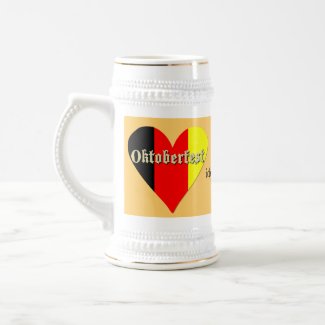 Ceramic beer stein in white with the German flag in the shape of a heart and the text Oktoberfest overlaid on it. Easy to add your message to the stein. 
Use the customization options on the product page to turn it into a ceramic mug or cup, a metal travel mug or a frosted beer glass in one click.
Shop for More Popular Oktoberfest Gifts at Zazzle 
ZAZZLE DEUTSCHLAND
>> Kaufen Sie für mehr geschenke an Zazzle Deutschland <<