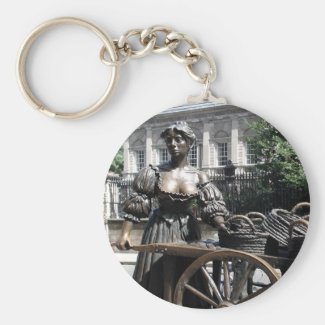 KEYCHAINS AT ZAZZLE

Molly Malone and Wheelbarrow Key Chain
The Molly Malone statue in Grafton Street, Dublin, Ireland, cast in bronze to celebrate the city's millennium in 1987. Molly, a beautiful fishmonger who plied her trade on the streets of Dublin, but who died young of a fever, wears a 17th Century dress standing and holding her wheelbarrow on which are several baskets of fish, cockles and mussels. 
This statue is known locally as The Tart With The Cart, The Dish With The Fish, The Trollop With The Scallop(s), The Dolly With the Trolley, and The Flirt in the Skirt. 
View and Buy A Custom Keychain
Zazzle keychains come in several styles including  the Standard Keychain,  the Premium Keychain and Acrylic Keychain.
Standard Keychain
The standard keychain has a sturdy clasp that keeps keys together securely. It's a low cost keychain that does well through daily use. It's waterproof and small and compact enough for purses and pockets.  Dimensions are : diameter 2.25 inches, depth 0.19 inches, weight only 0.25 ounces. 
Premium Keychain
The premium keychain is a more rugged keychain than the standard keychain. It's made of elegant silver-colored metal  with a waterproof UV coating that mean your images will look like new for years. A great gift as a tag for for small bags such as laptop bags or hand baggage, as well as for a bunch of keys. The Zazzle design tool allows you to take a design on a standard keychain and print it on the premium keychain.
Two shapes, round and square, and two sizes, small and large, are available for the premium keychain. 
Premium keychain specifications
Round: Diameter: 1.44 inches.  Depth: .19 inches. Weight: .75 ounces
Large round: Diameter: 2.125 inches. Depth: .19 inches. Weight: 1.375 ounces
Square: Diameter: 1.38 inches.  Depth: .19 inches. Weight: .75 ounces
Large square: Diameter: 2 inches. Depth: .19 inches. Weight: 1.625 ounce.
Acrylic Keychain
This keychain is made of long lasting acrylic with a metal chain and is UV resistant and waterproof. It's a versatile design because it comes in 6 styles: circular, square and rectangular, and printable on one or both sides. 
The circular acrylic keychain measures 2" in diameter, the square keychain is Size 1.875" x 1.875" in size, and the rectangular keychain measures 1.5" x 2.75".
Shop for music themed key chains for musicians and music fans
Add the personal touch - a personalized zodiac star sign key ring as a birthday gift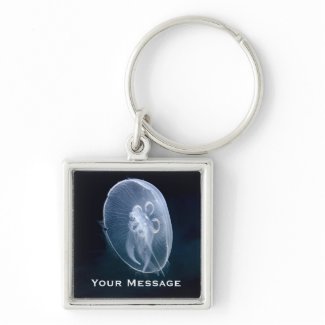 Blue Jellyfish Premium Keychain
This Keychain features a jellyfish floating with the underside of its umbrella shaped structure exposing its translucent organs brightly lit with a blue hue from above, close to the surface of the sea. Jellyfish, sometimes known as jellies, sea jellies or Medusa since they are not actually fish, are found in every ocean and some in freshwater. There are about 1800 species in total.
Easy to customize. Use the Customize It button to fully personalize the design.
Popular Gifts With A Jellyfish Theme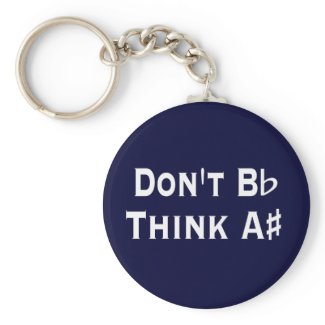 Dont B Flat Think A Sharp Music Keychain
This standard keychain features the slogan in music notation to read Don't Be Flat, Think A Sharp a short motivational quote for when you feel flat. 
Easy to customize.  Add your name, message or logo and buy in bulk to re-sell to support your business, group or community activity.  A popular selling item at our store.
Get Motivated With a 'Dont B Flat Think A Sharp' Motivational Gift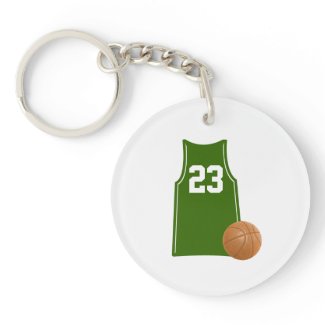 A Basketball Shirt With Basketball on Acrylic Keychain
This Acrylic Keychain features the image of a basketball singlet shirt and a basketball. The text and shirt color, green can be easily changed. This is the circular version that can be printed with your text and images on both sides. 
More Basketball Themed Gifts For Birthdays and Christmas
Shop for more themed key chains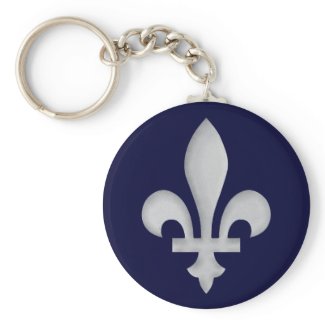 A Silver Fleur-de-lys Keychain
Features a Fleur-de-lys, a floral emblem used in coats of arms and flags in largely francophone countries where it has its origins such as France, Spain, Luxembourg, Canada, Quebec, Louisiana, Switzerland, and Bosnia Herzegovina. The emblem is also associated with the Scouting movement. The emblem here is silver with a shadow gradient on a background color that you can change.
More Popular Acrylic Keychains at Zazzle