Personal Playing Cards
Personalize your own deck of cards with your choice of image and text as an ideal gift for Christmas, birthdays and special occasions. 
Made in the USA from casino-grade paper by Bicycle, who have been making playing cards since 1885, your custom playing cards will have a personal touch and feel great as you deal a winning hand.
Design your own or customize Zazzle designs to make a unique personal gift for newlywed couples or for the family on holiday. 

You can even customize our designs, buy in bulk at discount and re-sell to support your business or community cause. There are 11 different card styles to choose from, including several novelty themes and large type styles for the visually challenged.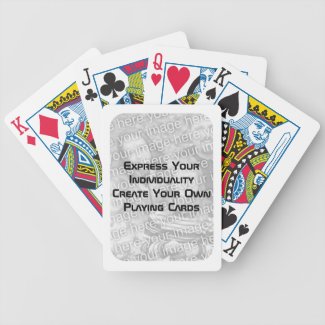 Design and Create Your Own Playing Cards
A deck of customizable photo-image playing cards. The placeholder text allows you to personalize with your name or initials and to add your own image. 
The deck shown has  a white border surrounding the image and text. The cards are also available with a black border and with a white band with text placeholder.
FEATURED CARDS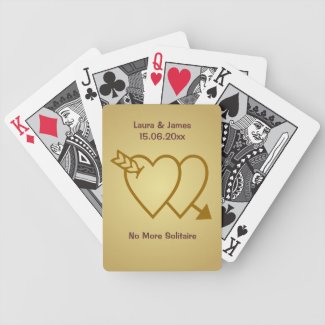 Funny No More Solitaire Wedding Hearts Card Deck
A deck of cards with a wedding theme that features the outline of two hearts pierced by an arrow on a golden background. There's placeholder text for the couple's names and date of wedding above the hearts. The gift will appeal to card playing couples as the phrase below reads "No more solitaire", a pun alluding to the opportunity to play card games for two (or more).
Easy to customize. Replace the placeholder text and use the Choose your options to select from a range of card styles, including styles for the visually challenged.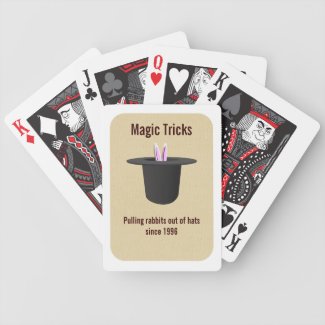 Magic Tricks Pulling Rabbits Out Of Hats Card Deck
A deck of cards with a magic theme. The playing cards are a normal pack and not a 'trick' pack, yet what makes them magical is the ability to personalise the design. The back of each card shows a black hat with two rabbit ears visible above the rim. 
These playing cards are standard playing cards. They are not altered in any way to perform card tricks. Card tricks are possible with these and any other normal card deck where sleight of hand and misdirection is needed for the magic of illusion.
Browse Our Collection Of Customizable Playing Cards
Customer Review -
Excellent Wedding Theme Playing Cards
Simple grey dove with two purple ribbons wedding playing cards
. Reviewed by
Texas
on .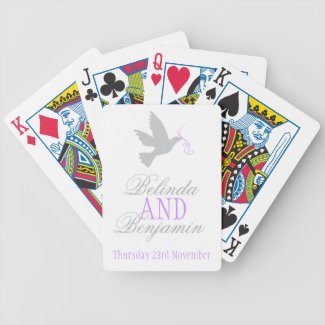 Excellent.
.
I got these as a gift in our out of town guest bag for our wedding. So much better than the usual option of putting a sticker on the box to customize. Cards turned out beautifully!
Rating:
5
View and Buy
More Popular Playing Cards at Zazzle