Jelly Bean Tins and Jars
With the Jelly Belly Candy brand at Zazzle you won't be at a loss for a sweet gift for a loved one, or as gifts at special events such as weddings, or helping to brand your business.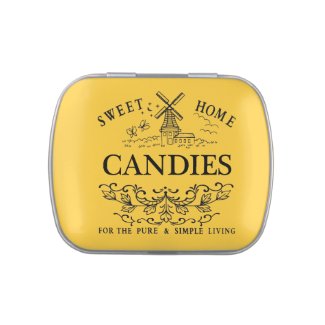 Sweet Home Candies Golden Jelly Belly Tin 

A jelly bean candy tin with a vintage design on the lid. It features an illustrated windmill in a field with butterflies and birds with the text 'sweet home candies for the pure and simple living'. The background has a gold metal finish. You can change the style, color and finish.
 There's a choice of 6 styles made of metal, or with metal lid and glass, and you can personalise the lid on each with your images and text. They are filled with fresh mints or your favorite Jelly Belly™ flavor. Candy is kosher certified, gluten and soy free. Flavors include: peach, pina colada, buttered popcorn, strawberry daiquiri, island punch, sunkist tangerine, Sunkist lemon, tutti fruitti, very cherry, cotton candy, lemon lime, green apple, bubble gum, watermelon, coconut, toasted marshmallow, orange sherbet, blueberry, and chocolate pudding.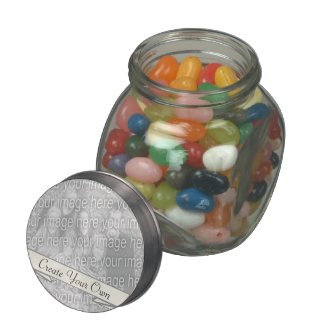 Create Your Own Jelly Belly Candy Tin
Create Your Own Jelly Belly candy tin with your design at low cost. Replace the placeholder image with a photo, graphic or logo from your computer (high resolution is best), and replace or remove the text. 
The style shown is the glass jar with custom lid. Choose a different style of tin and color. 
Popular Jelly Belly Jelly Bean Candy Jars
More Popular Jelly Belly Jelly Bean Candy Jars
Candy Jars
Store your snacks and treats in style with a custom candy jar from Zazzle. Made of 100% bright white porcelain, this candy jar has a brilliant luster that makes your photos, text, and designs look amazing. Dishwasher and microwave approved, your hard candy will be safe and secure in a custom candy jar from Zazzle. 10oz capacity with Cork lid included.
Low Cost Create Your Own Personal Candy Jar
Express your individuality - design and create your own candy jar at low cost.
Easy to customize. Replace the placeholder image with your own image, graphic or photograph.
Popular Ceramic Candy Jars at Zazzle 


More Popular Ceramic Candy Jars at Zazzle