The Mesh Hat 
The customizable trucker hat has a 100% polyester foam front and a 100% nylon mesh back keeps you cool. A wide area on the front of the hat is available for your customization.  The hat is adjustable from 17" to 24" and available in 11 color combinations.


More Trucker and Sports Mesh Hats

Embroidered Hats
Three styles of embroidered hat are available with a range of fabric color options - the basic Flexfit Wool, basic adjustable and distressed chino twill.
Browse and Shop for Custom Embroidered Hats


Basic Flexfit Wool Cap
Give your head a treat with this high-quality, embroidered Flexfit cap. Available in two stretchable sizes, it gives you a really comfortable fit.  The Zazzle cap features a Permacurv  visor, silver underbill, fused hard buckram 8.89 cm. crown, 6 sewn eyelets for breathability and taped seams. 
Basic Adjustable Cap
Want a good-looking comfortable hat? This one's for you. From Alternative Apparel, this chino twill cap has a pre-curved bill, cloth strap and an antique brass slide buckle closure with tuck-in grommet, so it fits well on anyone. Contrasting navy underbill on all colors except white, black and pink. 
Distressed Chino Twill Cap
If you like the lived-in look, you'll love this enzyme-washed hat from District Threads. Comfortable as an old friend, it's 100% cotton and has an unstructured style with 6 panels and a low profile. Make it the perfect size with the metal D-ring slider buckle and hideaway cloth strap.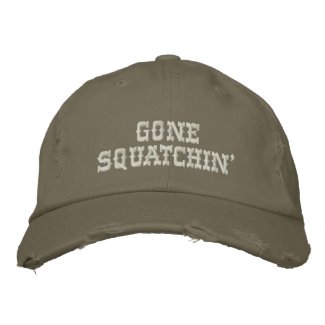 Gone Squatching - Professional Bigfoot Hunter Hat
This is high quality squatching embroidered hat with the text "Gone Squatchin'" sewn into the fabric of the hat. It has the "lived in" look, as if you've been looking for Bigfoot in the woods for a long time. The hat for professional squatching. Change the style, colors and text if you like.
Awarded Top 10 Embroidered Hats Views at Zazzle on February 26, 2012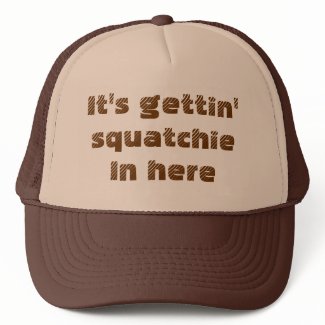 It's Gettin' Squatchie In Here - Squatchin Hat
It's Gettin' Squatchie In Here - The squatchin' hat for hangin' out in, when you're not out squatchin'.  
Shop for more popular hats at Zazzle