Bridal Shower Invitations

Choose a design and color that matches your mood and your wedding theme.  Browse through a selection of some of these many popular and seasonal themes :  Chalkboard - Country - Lace - Damask - Floral - Chevrons - Peacock Feathers - Beach - Music - Spring Summer - Fall - Winter - Vintage - Travel and more.
Bridal Shower Invitation - Lace Wedding Dress 
FEATURED BRIDAL SHOWER INVITATION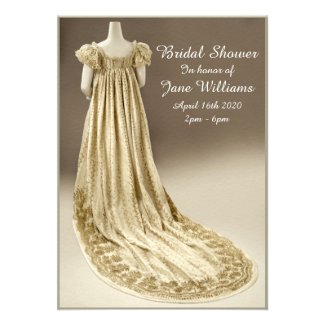 Bridal Shower French Court Wedding Gown In Gold
This bridal shower invitation card features a luxurious gold wedding gown with train dating from around 1810. The train is decorated with strips of gold lamé that were necessary to meet the strict dress code for gowns worn at the Royal Court in Paris, France in the early 1800's.
Chalkboard Theme


Country Style (With a Mason Jar)



More With A Country Style Theme

Lace Theme


Damask Theme


Floral Theme


Browse and View These Bridal Shower Themes On The Next Page :


Spring and Summer Seasonal Theme

Vintage Themed Bridal Shower Invitations
Music Theme Bridal Shower Invitations

Popular Bridal Shower Invitations

Browse and Shop for All Bridal Shower Invitation Cards 

MORE BRIDAL SHOWER INVITATION CARDS ON NEXT PAGE >>