If you are planning a wedding or large gathering where guests celebrate the special occasion with a formal reception in company of friends and family and need table place setting cards browse the categories below for a suitable design. You will also find many designed to be used as Thank You cards and wedding favor gift tags. 
All cards in these galleries are notable for their size, being printed on high quality standard size (2" x 3.5") or chubby sized (2.5" x 3.5") business card stock, from 90lb to 110lb, in various finishes. They are ideal as compact table place settings, with options to print on the back of each card. 
Zazzle also offer customizable Table Cards that measure 3.5" x 5" (portrait) or 5" x 3.5" (landscape). 


Wedding Table Place Cards ~ Business Card Template Sizes
Floral Themed Table Place Cards
Silver Themed Table Place Cards
Vintage Themed Table Place Cards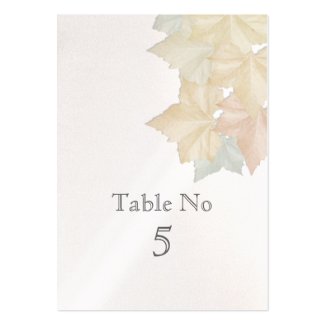 Autumn Leaves, A Fall Wedding Table Place Card
A table place card, printed on a chubby size business card with a pearl finish, for a wedding in the autumn.  This design with pastel colors and subdued hues of silver, gold and russet in a leaf arrangement are on a range of wedding products and gifts at the store.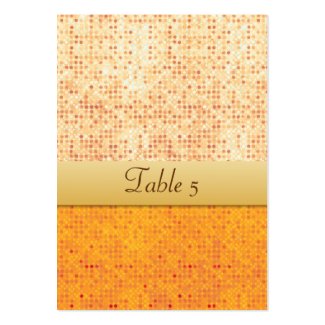 Glittery Orange Polka Dot Wedding Table Place Card 
A pack of Table Place Cards (business card size) with polka dots in hues of glittery yellow and orange above and below a gold band with your choice of text in flowing script. For table place settings you may order without the text and add the table number in a calligraphic handwritten style.