BUSINESS CARDS FOR THE BAKERY AND CATERING PROFESSIONS

Personal Chef Catering Whisk Business Card
An elegant and artistic digital illustration of a whisk as a logo. A great design for pastry chefs and culinary executive chefs. Fully customizable on both sides and available on a range of card finishes and sizes.
You're skilled in the kitchen and you have a creative streak in all the catering that you do for clients. A business card that you design will impress clients when you know exactly what it should contain. Follow the links below for a large range of business card templates that you can easily personalize to reflect your talents. There are templates for bakers, chefs, cooks covering a range of cuisines, from the hamburger seller and cupcake bakers to those with gourmet ambitions. 
Customizable Cake Bakery Business Card

Pretty Pink and Brown Cake Artisan Bakery Business Card
Browse and Shop For Customizable Bakery Themed Business Cards
Cupcakes feature prominently in these Business Card Templates
Business Card Templates For Cooks and Chefs 
Diners, Restaurants, Burgers and Beyond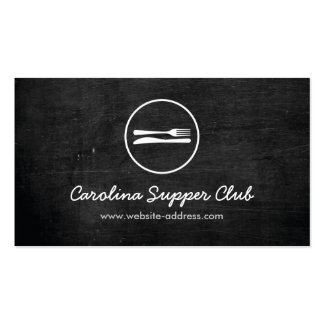 Rustic Knife & Fork Logo Business Card
A classic logo of a fork & knife encased in a circle becomes the identity for your business or personal brand. Set on a rustic black wood background, this business card template is perfect for chefs, restaurants, diners, cafes, foodies, food bloggers, bars, cooks, and bakeries.