Business cards and business card sized cards with an animal theme.  An ideal source of inspiration if you are looking for a business card that reflects your profession or occupation in the area of caring for dogs, cats and other pets. If you are in veterinary medicine or a specialist with birds, horses and more exotic animals there's probably a card you can customize. 


Browse the categories below. All cards are templates and it is easy to customize and personalize them for your particular needs. Although a card may be shown with a particular finish, for example, metallic, almost all the cards can be customized for other finishes. Card size is adjustable in many cases if the card you like is not shown in the size that you wish; some editing of the design may be needed to make it fit on a smaller card.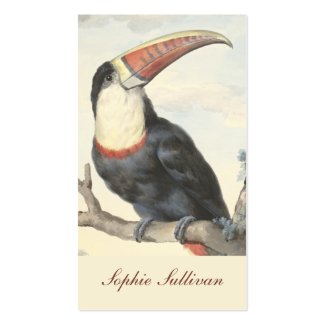 FEATURED CARD

Whitethroated American Toucan Business Card
This business card for petcare and the animal welfare professions features a reproduction of a watercolor painting of a majestic whitethroated toucan from eastern North America, by the Dutch painter Aert Schouman in 1748. 
Cute Owl Themed Business Card Templates