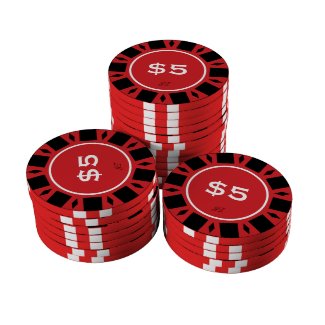 Poker Chips ~ Commemorative Ceramics
Customize a set of ChipLab TRITON casino quality ceramic poker chips with your designs for any event or promotion, not just poker. ChipLab chips, used in many leading casinos in Las Vegas, are yours to customize for your home or charity poker tournament. But these high quality chips also serve as save the date and commemorative coins for weddings, birthdays, parties and promotional merchandise for trade fairs and corporate events.
Fully customizable with your full color graphics, photography and text on the front and back. Choose from solid or striped edges in 12 vibrant colors. Each chip measures 1.55" diameter x 0.125" height. Weight is 0.02 lbs per chip.
The minimum order is 25 chips, but these can be made up of any combination, color or denomination of chips at Zazzle. You can save by buying bulk - 30% discount on 100 chips, and 62% discount on 500 chips or more.  Zazzle often has site wide sales and offers which may apply to these products - check the product page for current sales offers. 

HOME OR CHARITY TOURNAMENTS
Host your own poker tournament at home or for charity with a set of our poker chips. There are no standard rules for determining the color and denomination of poker chips. Traditionally the chip colors and values  depend on the game cash limit. A tournament with a 100 chip buy-in will require plenty of low-valued $1 (typically white), $2 (blue), and $5 (red) chips and a number of higher value chips at $25 (green) and $100 (black).  A game with a higher cash limit will require a distribution of $100, $500 (purple), and $1000 (yellow or orange) chips. Gray is traditionally used to denominate $5000 chips.

How many chips will I need?
You will need more of the lower-denomination chips than higher-denomination chips to allow players to make small bets. Each player should start your tournament with a stack of about 30 to 50 chips; it gives them the feeling of starting with a large pile of cash to use. An often quoted rule is a 4/3/2/1 distribution by value where, if you are buying 500 chips (costing around $750 with discount), you should buy 200 of the lowest value, 150 of the next lowest value, 100 of the next lowest value, and 50 with the highest value. 


Tournament Chips

Here's our selection of custom poker chips that you can brand and use in tournaments you arrange. Each chip features a diamond and square pattern around the edge. All our chips are fully customizable.
• The chip value can be easily changed (currency and amount). Font styles, size and color can be changed.
• You can add your initials, monogram or logo to uniquely brand your chips.
• You can change the background color of each chip and choose a different edge style and color.  
• You can use any combination of these chips (and any others at Zazzle) to your order to make up the minimum of 25 chips.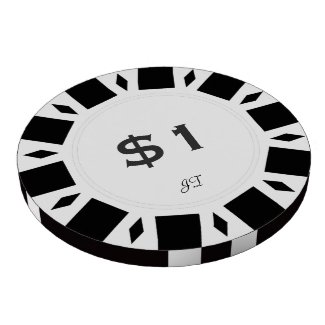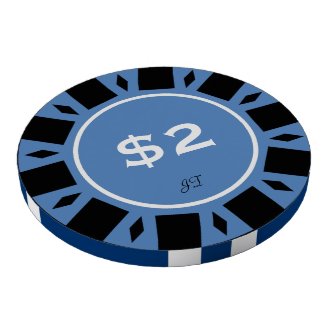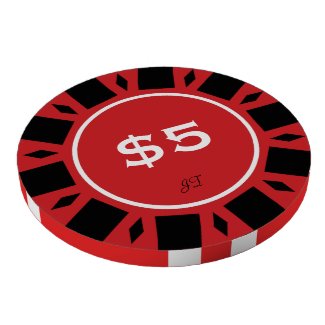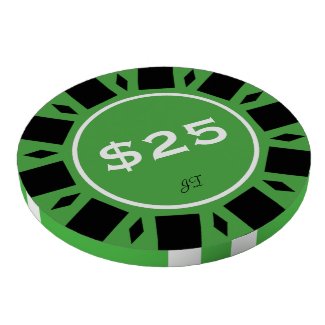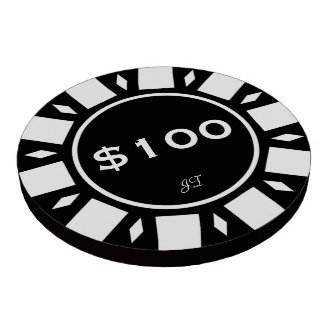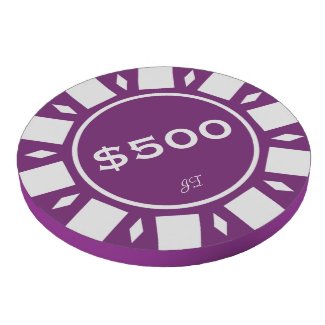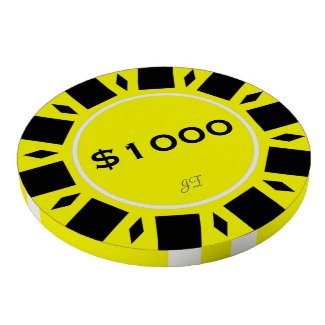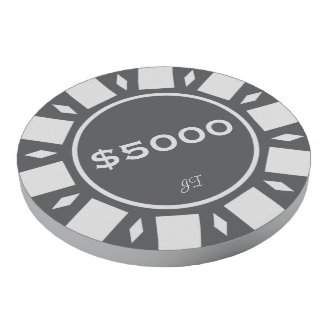 CHARITY POKER RUN
A poker run is an organized event, usually a charity event, where participants use various forms of transportation (motorbikes are popular) to visit five to seven checkpoints, drawing a playing card at each one. The object of the run is to have the best poker hand at the end. The record for the largest single venue event was set in 2012, with 586 motorcyclists raising money for Prostate Cancer research in Ottawa, Canada.
Poker runs usually require a fee to enter; in some events a small part of the fee may go to funding the event, including the prizes, while the rest goes to the event's charity recipient or club treasury. In charity events usually most of the funds go to the charity. Prizes, such as money, plaques, or merchandise donated by commercial sponsors of the event, are awarded for the best poker hand. 
The event might offer food or entertainment, either covered by the entry fee or at additional cost. 
Here's a template that you can modify to support your charity poker run. It's a poker chip designated as a meal ticket, but you can customize its color and choose your own text. Minimum order is 25 chips but you should be able to recover the cost and contribute to charity funds by selling as a food or entertainment token; participants retaining it as a commemorative souvenir of their involvement in the event.
Charity Poker Run Commemorative Ceramic Poker Chip - Click to Buy
SAVE THE DATE AND WEDDING FAVOR CHIPS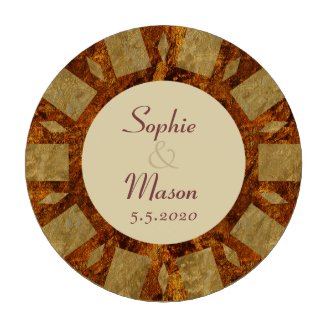 Save The Date and Photo Template Wedding Favor Poker Chips
Decorative commemorative customizable poker chips with a wedding theme. 
Each chip is surrounded by an elegant pattern of squares and diamonds in a background of hues of gold, reds and orange. 
One side shows the bride's name, the groom's name and date of the wedding. The other side has a placeholder for the couple's photo. The text font styles, colors and size are customizable. 
Minimum order is 25 but this could be composed of,  for example, 15 save the date chips announcing the wedding and 15 chips as thank you wedding favors for after the wedding. 
DRINKS TOKENS FOR THE HOSPITALITY PROFESSIONS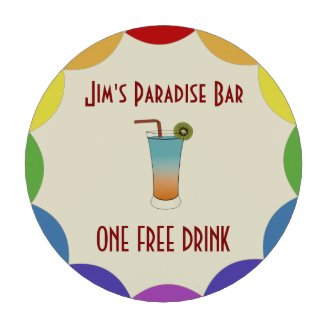 Each ceramic drinks token has a ring of rainbow colors around the circumference, with a colorful cocktail glass on one side and an illustrated tropical island on the other. Advertise your business and offer customers these to trade for drinks in safe cash-free premises, such as a beach bar.