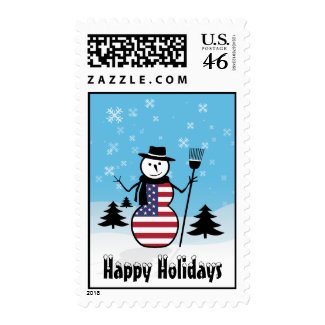 HOLIDAY POSTAGE
Make every seasonal mailing a special delivery with your own customized postage, perfect for the holiday season. Browse and buy purchase instantly, or customize your own sheets of postage stamps.
If you create your own stamps or customize existing designs in the Zazzle marketplace you should note that these must be approved by USPS first. This approval period can take up to 24hrs or longer so order early to avoid disappointment.
Happy Holidays Snowman Postage
US Postage stamps are only valid for use with the US Postal Service and cannot be purchased on any of Zazzle's international portals - only the main Zazzle US website which all our links on this page uses.
Zazzle custom stamps come in three sizes: large (2.5" x 1.5"), medium (2.1" x 1.3") and small (1.8" x 1.3"),  and are available in 13 different value denominations. Refer to the denominations listed on the stamp product page.
Some stationery in the Zazzle marketplace, notably cards and invitations, may have matching postage; read the product description to see if the store offers matching postage for its stationery.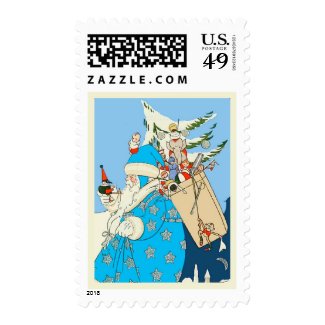 Vintage Blue Santa with Christmas Toys 
This features an elderly vintage Santa Claus with long flowing white beard. He wears a blue cloak with silver stars, blue hat and white gloves. He carries a sack of toys on his back and holds a small toy figure in his hand.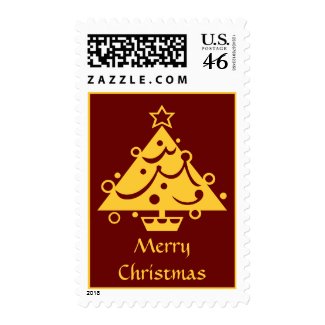 Golden Decorated Christmas Tree Postage Stamp
This postage stamp features a golden Christmas tree decorated and standing on a rich red background, with the customizable text Merry Christmas which you can change to Happy Holidays or other seasonal message.
More Bestselling Seasonal Postage Stamps in the Zazzle Marketplace
Vintage and Victorian Themed Seasonal Stamps
Christian Themed Christmas Postage Stamps
Star of David and Menorah Happy Hanukkah Postage Stamps
Funny and Humorous Santa and Reindeer US Postage Stamps for the Holiday Season 
Seasonal Postage for the Office, Businesses and Corporate Executives
Patriotic American Postage Stamps
US Postage in Support of Military Troops On Duty at the Holidays