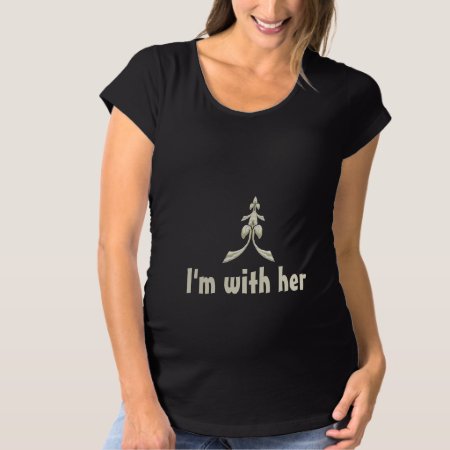 I'm With Her - Expecting Mom T Shirt
Funny maternity announcement T Shirt with the baby's announcement I'm With Her with arrows pointing towards the wearer, the mother to be. 
Expecting Twins or Triplets? 
Check out the corresponding maternity shirt We're With Her for twins or more
Made in California from 100% organic cotton the Harvester women's maternity T-shirt is silky soft and gives you room to grow!  The short sleeves don't pinch and the body length is cut to keep you covered. Elegant yet comfortable. 
We also have normal shirts for dads and other family members to wear as well. For shirts that are specifically designed for expecting moms check the details on the product page. 
If there's a particular design that doesn't appear to be sold on a maternity shirt the product page should have an option for you to select the maternity shirt style to print it on. 


Browse and Shop for More Maternity Themed Shirts