Return to Tests and Certificates Page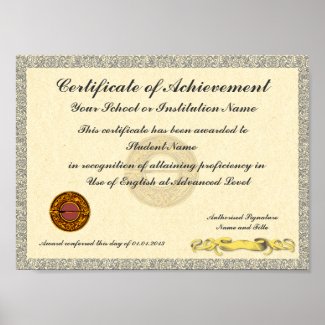 Your school name, your name and your achievement on a high quality certificate
The tests presented here are FREE to use anytime, anywhere. 
All we ask in return are three things :

1. You agree to let us have your email address to send you your test results and information from time to time about new tests and new initiatives here. We will never sell or give away your email address; it will remain confidential.
2. Buy a certificate of achievement after you have done a test, or persuade your school to buy bulk copies. You don't have to buy a copy, but if you do your purchase will help motivate us to continue providing free online tests. There's also the Dependent Prepositions Mousepad which is a popular seller. 
3. Follow us on Twitter and let your followers know about this page. Use the Twitter button at the top of the page, so they can visit and do the free tests for themselves.
Before you start the test you will be asked for your name and email address. We will use your email address to send you your results and other information from time to time.


The Tests
There are 25 multiple choice items in each test. You have 40 minutes to complete a test.  When you complete the tests online your answers will be marked and graded automatically.  Results will be displayed on your screen and sent to your email address.  If your teacher needs a copy of your email please forward a copy when you receive it.

Results will be recorded with a total mark, a grade and your performance on individual questions, whether correct or incorrect.
The language tests are free but your support is needed to keep them free, so we would appreciate it if you were to browse and buy something from the Zazzle marketplace, whether a T shirt or a sheet of stickers. Click a link in the panel below. 
Click on the links below for a test, or return to the Tests and Certificates Page.