Collage Of Colorful Saxophones Music Binder 1"
By Digital Dreambuilder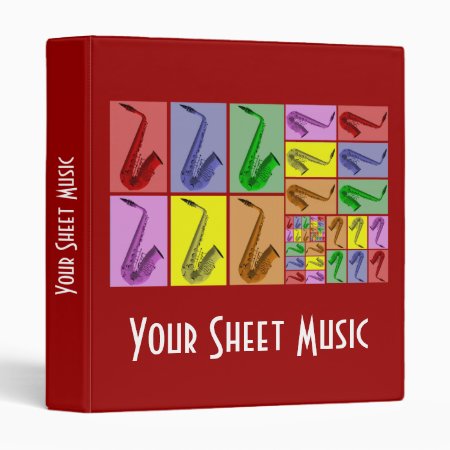 Collage Of Colorful Saxophones Music Binder 1"
Fully customizable Collage of Colorful Saxophones Music Binder 1" created by DIGITALDREAMBUILDER. Personalize this product with your own text and images (if the design allows it) and create a gift for yourself, a loved one, for your event or your business. Product Type Zazzle Binder. Style 8.5x11. Color Category White.
An Avery Binder (1") with a panel of colorful saxophones in red, blue, green, purple, yellow and orange arranged in a 3 x 2 pattern. Each sax is set in a rectangular background pane with a corresponding hue. The basic design of 6 saxophones comprising the main image is extended here by the application of the Fibonacci series, in which the pattern is repeated as tiles with squares whose sides are successive Fibonacci numbers in length. In these designs this gives the visual impression of the saxophones successively reduced in size by one half, rotated 90 degrees and shifted in adjacent tiles, in sequence. Easy to customize and personalize. Ideal for musicians, singers, songwriters, vocalists and players. Available in three sizes : 1", 1.5", 2.0".
Browse this Designer's Gallery: All Products

Browse This Designer's Store at Zazzle: Most Popular