Have fun making notes with your own custom notepad!  These notepads will look great with any color image, text, or design that you add. Each notepad has 40 easy tear-away pages of FSC certified paper with a hard cardboard backing and are ideal for the home or office. The designs are fully customizable with your name or business name and promotional message, and are printed on each page of the pad.
In some of our notepad designs there's a translucent layer that gives greater contrast so that your writing stands out (that's why the images above may look pale). You can remove the translucent layer if you like to increase contrast of the background image.
An ideal gift for someone close with uses in the home and at the office with personal 'to do' lists or just doodling. Browse, customize and buy your personal notepad today.
Browse, Customize and Buy A Personalized Notepad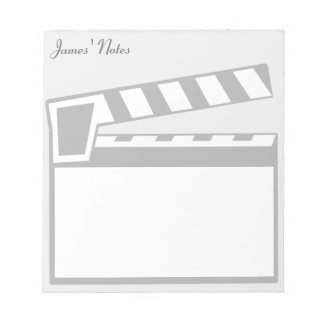 Movie Slate Clapperboard Board Notepad
This design features a black and white slate clapperboard that you'd find used on a movie or TV set, used to indicate the start of a 'take'; the filming of a scene and used to allow sound and video to be synchronized at the editing stage.
The slate is black, with band of white and black along the edges where the hinged top meets the bottom slate. The notepad has a white space layer to give extra contrast to the notes you can write on the pad.