Zazzle offers a range of choices in iPad cases and sleeves that not only protect your digital device but add style as well. There are Rickshaw sleeves, Caseable hard back folios and the DODOCase for iPads, the most popular shown below.
Rickshaw iPad Sleeves
A compact sleeve with excellent protection – the Rickshaw iPad sleeve. Designed with rugged Cordura nylon and an ultra-plush padded liner, this sleeve delivers great protection while displaying your custom artwork and text on both sides of the sleeve. Handmade in California with a focus on environmentally sustainable production, the Rickshaw iPad and laptop sleeve is a simple, stylish, and sustainable solution for protecting your electronic devices. It's suitable for the original iPad and iPad 2. 
The Arctic Colors Chevron iPad Sleeve shown above features colors of the arctic tundra
Caseable iPad Folio
The caseable iPad Folio case is perfect for displaying your favorite designs while protecting your iPad against daily wear and tear. Designed with a book like feel with a water-resistant fabric wrapped hardcover exterior, secure elastic strap closure, and rubberized edges, this high quality case features a water-resistant exterior, super-soft suede interior, and rubberized edges. Environmentally friendly as they feature the highest quality recycled materials from Germany, Japan, and China, and manufactured in 7-21 business days in Brooklyn, New York.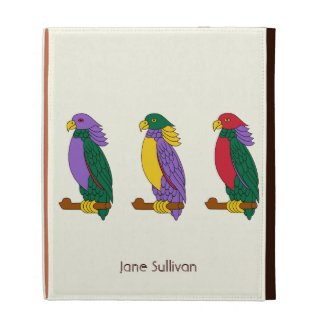 The case has rubberized edges for grip, your case turning into an easel type display on any flat surface. It's great for watching movies or drawing - just fold it and it stands. Designed for Apple's iPad 1, iPad 2, and new iPad (iPad 3) the design is customizable and you can choose from 5 interior colors on soft and protective suede to match your designs. The interior has a document pocket and elastic device corner straps. The case measures 9.87" x 8".
Colorful Cartoon Parrots iPad Case
A Caseable iPad Folio with bright colorful cartoon parrots with purple, yellow, red and green plumage, and beaks and claws in yellow as they stand on a brown branch. 
View and Buy A Caseable iPad Folio Case for Your iPad
More Caseable iPad Folio Cases
DODOcase iPad Case
The DODOCase iPad Case not only protects your iPad it gives your tablet the timeless look of a hardcover book. Features include a black Moroccan cloth exterior, a durable, eco-friendly bamboo tray and a custom interior lining. Each case is made in San Francisco using traditional bookbinding techniques to ensure a high quality product that looks great for years. It's designed for the Apple iPad 2/3/4 models (but does not fit iPad Mini). Dimensions are 10" x 8" x 1".
Vintage Leather Library Effect iPad DODOcase 
A DODOcase for the iPad with the image of a set of 19th Century leather bound encyclopedia volumes containing a library of science knowledge published in the year 1854, the equivalent of Google for the well-educated and literate in the Victorian era.
Browse and Shop our iPad DODOCases
Browse and Shop for more iPad DODOCases at Zazzle