Wear a bright and cheerful T Shirt that shows your love for animals. We have a large collection of T Shirts with most animals. All shirt styles are customizable so if you see a design on a kid's T shirt you will be able to buy it on other sizes and shirt styles.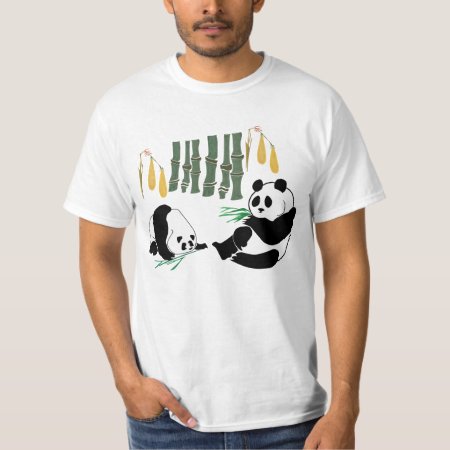 Two Pandas In A Tropical Forest T Shirt 
Two black and white pandas in a tropical forest setting on our low cost value T shirt. The larger panda sits with green bamboo shoots in her forepaws, the smaller panda bear stands on all four limbs eating bamboo shoots. Tropical fruit, ripened orange mangoes, hanging from a branch with small red leaves, decorate the rainforest scene.
Pandas are an endangered species, threatened by continued habitat loss and by a very low birthrate, both in the wild and in captivity. Give as a gift to someone who loves animals, especially pandas. Or buy in bulk and resell to support a cause. 
Browse and Shop For Animal Themed Shirts